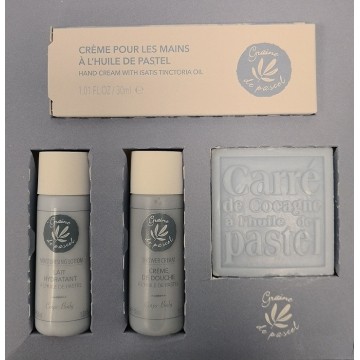 Enlarge
Gift box containing 4 cosmetics products based on pastel oil :
Discover our Cosmetic box with pastel oil "The indispensable" and discover the benefits of pastel plant to your loved ones!
An ideal and original gift, at a low price!
Package Contents:
A 30ml bottle of moisturizing milk with pastel oil.
A bottle of 30ml of shower cream with pastel oil.
A square of cocagne "Bleu Alazado" of 25g (soap surgras face and body, containing natural pigment of pastel).
A very moisturizing 30ml hand cream with pastel oil.
Thanks to this box, your loved ones will not be disappointed and you either!
Availability : Available
6 item in stock items in stock
COFFRET_001