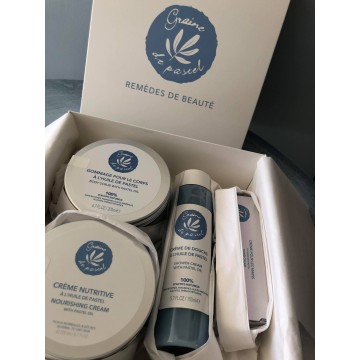 Enlarge
A sweet pink box to discover "Muse", a precious fragrance with floral and enveloping scents!
The eau de toilette (toilet water) "Muse" is accompanied by a ceramic bracelet designed by Les Parfumables, manufacturer in Limoges since 1987!
Precious and poetic, "Muse" portrays the contemporary woman with a bright and refined aura, which inspires with its daring and natural elegance.
A veritable ode to sparkling femininity, it envelops the skin with a mysterious and sensual radiance that reveals and illuminates the innate beauty of the feminine.
Availability : Available
2 item in stock items in stock
Warning: Last items in stock !
COFFRET_ROUTINE_CORPS