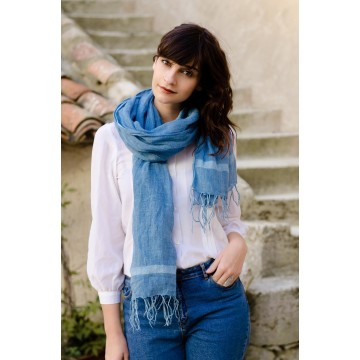 Enlarge
100% Linen blue scarf dyed by hand :
Add a touch of color to your winter outfit and keep your neck warm, adopting this beautiful linen scarf dyed naturally in Bleu Pastel de Lectoure!
100% linen scarf from Normandy, without treatment.

Scarf dyed with pastel (Isatis Tinctoria), 100% natural and entirely by hand!
Washable in a washing machine at 30°C.
You too, see life in Blue! Feel sensation this winter, by adopting today, this beautiful trendy scarf!
Availability : This product is no longer in stock