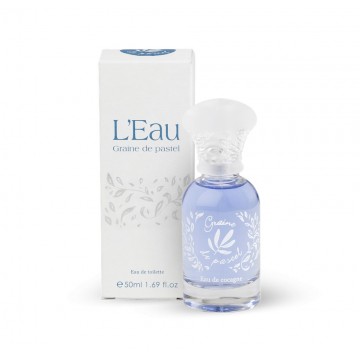 Enlarge
Toilet water with pastel scent "L'eau" with 50ml capacity :
This toilet water offers a very original essence reflecting the unique spirit of pastel seed, and embodying its universe since its inception!
Its fresh and delicate scents open on a vegetal note of cut grass evoking pastel, then bloom on white flowers that reveal all the sweetness and elegance of the brand.
The background, subtly wooded, calls the emotion and revives the attachment of pastel seed to its territorial origins.
This pastel blue toilet water is collected in a glass bottle whose fine volutes illustrate all the delicacy!
Top note: natural essences of bergamot and lemon (freshness).
Heart notes: essences of lily of the valley, rose, jasmine and green ylang, (Floral touch).
Base notes: sandalwood, moss and musk (woody touch).
Capacity:
50ml glass spray bottle in a case.
Application:
Spray gently on the neck, bust and wrists.
Availability : This product is no longer in stock
EAU_COCAGNE